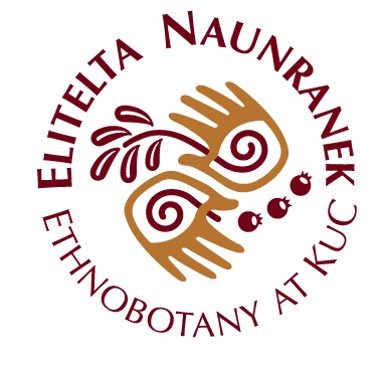 Ethnobotany is the study of the relationships between people and plants. Ethnobotany as an academic discipline is relatively young and interdisciplinary in nature; it builds on concepts and methods from the humanities and the sciences, mainly anthropology and botany. Students taking courses offered by the University of Alaska Fairbanks Ethnobotany program (EBOT) embark on an exciting journey into the exploration of the multifaceted relationships between human cultures and plants.
About the program
The UAF Ethnobotany program is housed at the Kuskokwim Campus (KuC) in Bethel, located in the Yukon-Kuskokwim Delta of Western Alaska. The program was initiated at the request of Yup'ik Elders who wished for a program that would help to keep their cultural knowledge about plants alive. The academic materialization of this wish was a program that provides a stepping-stone into STEM fields and academia by offering culturally relevant content.
Our program emphasizes the importance of plants in Alaska Native and other Indigenous cultures of the circumpolar North. Alaska Native Elders are co-instructors in some courses and guest speakers in others. Whenever we can, we strive to work with youth in rural communities by offering dual-enrollment courses or supporting science and culture camps.
By studying local plants and plant knowledge, students are introduced to a variety of academic disciplines, e.g. anthropology, Indigenous studies, botany, ecology, and pharmacology. At the same time, the program aims to provide training and ideas for small-business economic development in rural areas of Alaska, such as the Yukon-Kuskokwim Delta.
All of our courses are distance delivered, hands-on, place-based, and culturally relevant in every student's context.
Occupational Endorsement Certificate in Ethnobotany
Minor in Ethnobotany
Ethnobotany concentration in the Associate of Science degree
Why ethnobotany?
Ethnobotany has a broad range of applications. No matter what their professional backgrounds and motivations to study ethnobotany are, our students share a common interest in plants and the multiple roles they play in human cultures.
All of our students have in common that they are genuinely interested in plants and that they enjoy sharing the knowledge that they bring to our program. Join us and become part of a vibrant community of plant enthusiasts.
Ethnobotany applications
Some EBOT students use the Ethnobotany Certificate Program as a stepping stone into higher education, while others start small cottage-industry businesses related to plants, pursue ethnobotany as a professional development path in addition to an existing career, or work for ethnobotany-related projects by tribal organizations or government agencies in the field of resource management.
Among our graduates, we have current and future elementary, high school and college instructors who create culturally sensitive science curricula for their Indigenous students, dietitians working with Alaska Native patients, a professional herbalist, outdoor guides, and a National Guard Air Force survival instructor.